Written by Ikmal Salim | 01 January 2012

In this post, I apologise for the frustration that I channeled so enthusiastically into my last post and will endeavour to rebuild my cheery demeanour by channeling some absolutely fantastic news.

Alright, now that those big words are out of the way, let's get to business.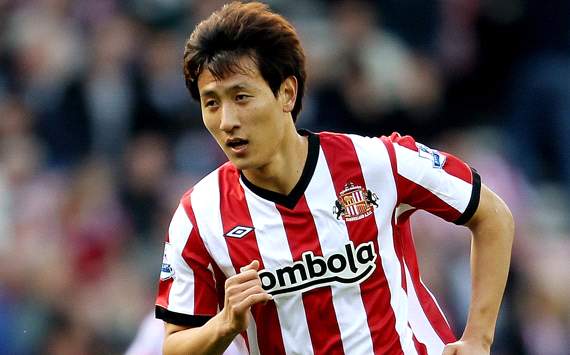 The face of the man who disturbed the balance in a fascinating race.
CHELSEA 1-3 ASTON VILLA (minor, I know)
SWANSEA 1-1 TOTTENHAM
and...
SUNDERLAND 1-0 MAN CITY

I went out to dinner tonight to celebrate the New Year because my family decided that football was more important last night. Indeed, after United lost, I was dejected and kinda conceded that we should have maybe gone out instead of all watching the match. But after dinner, I flicked on the box and sat down to watch one of the most tense matches I think I've had this season.

Man City had the lion's share of the possession but couldn't knock down the resolute Sunderland defence (which featured old boys John O'Shea and Wes Brown – although Wes pulled out in the middle of the first half with a groin strain). But they piled on so much pressure, I couldn't bear to watch. They hit the bar through Dzeko and Micah "Mario Balotelli" Richards and forced good saves off Sunderland stopper Simon (S)Mignolet. But it was an offside Korean who had the last laugh.

Deep into stoppage time, Ji Dong-Won got the ball back off Stephane Sessegnon after a one-two, rounded Joe Hart and bundled it into the back of the net with his left foot. It was almost literally the last kick of the game. Replays showed he was well offside, but who cares? City fans? Hahaha, don't make me laugh.

But I won't deny, that was very very VERY luscious. I'm incredibly pleased.

Elsewhere, Spurs couldn't win, so the gap is reduced to 5 points between both Manchesters and the rest of the pack, though Spurs have a game in hand. And Chelsea... Chelsea, Chelsea, Chelsea. They were carved open by Villa at the end of their match and finished with a resounding 3-1 defeat. I think they've accepted that they're probably out of the race. But then again, I began ruling people out of the title race this early last season and it bit me in the ass, so I won't do the same.

Though, at the end of the day, my final points at the end of the previous post remain. We've got to take care of Newcastle at St. Jame---oh, sorry, the "SportsDirect Arena" in order to wrest the initiative back in this race. Let City's result be the tonic that we needed to wake ourselves up from the stupor and make it 20 at the end of the season. HAPPY 2(0-1)2 EVERYONE!